The Rhombus
The "rhombus" techically isn't a rhombus (a two-dimensional, four-sided parallelogram) but a rhomboidal hexahedron or rhombohedron. However, that's what Trey calls it onstage - e.g. 5/20/89, 12/7/89, 12/29/90, 3/17/90, 7/15/92, 6/23/95, and 12/1/95.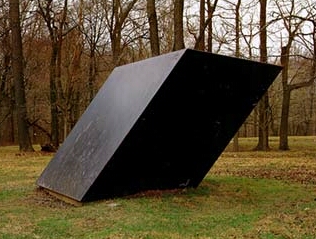 He has sometimes describing it as being in Gamehendge, and other times as being a route to get there. But the "rhombus" is nonfictional. It's a large black-painted metal structure (6'11" x 12' x 14'2") titled "New Piece", created by Tony Smith in 1966. Trey misled fans for years as to its location (e.g. on 12/3/95: "up the hill in the town of King of Prussia"; notably there's a leather goods store there named Wilson's). On the other hand, he has mentioned, for example, that it's near Waterloo ("this is the closest spot on tour to the Rhombus" @ 6/23/95.)
"New Piece" sits in Princeton, NJ, beside a lake in a wooded, relatively secluded area near the Institute for Advanced Studies lab where Trey's father (and Albert Einstein, among others) worked. Trey, Tom Marshall, Dave Abrahms, and Aaron Wolfe - all Phish lyricists - gathered there during their pre-college days, and several Phish songs were borne there. ("Divided Sky" was crafted around sounds beaten from it.) It was on exhibition at the Museum Of Modern Art (the "MOMA") in New York City from 7/22/98 to 9/22/98.
The "rhombus" is on private property, so you would be trespassing if you visit it. Visits have become pilgrimages, and carelessness has wrought pitiful harm. (The door on top, once opened by said lyricists who started a fire inside, has been bolted shut. And the sculpture was painted red in early 1998 to cover graffiti, though by May was black again.) There are generations of Lizards and Glides yet to come. Help make sure they can experience what's left of it, before there's even less.
"On mani padme hum." - Buddhist mantra