[Phish.net thanks volunteer recapper Rachael Wesley (rachaelwesley.com; Instagram: @rachaelwesleywrites) for recapping last night's show. - Ed.]
We all Phish for our own reasons and rage in our own ways. For me, I love reuniting with my favorite people while exploring parts of the country I might otherwise never visit. So, when Phish announced their tour opening run in Orange Beach that began the day after my 40th birthday, it was easy for me to decide how to welcome in the new decade. Nor was it difficult to convince my crew to head to Alabama, a new state for several of us, to celebrate with me. We rented a large condo at the Wharf big enough to accommodate us all and spent the weekend swimming, eating, and Phishing. There was no better way a Phish fan could usher in a big birthday.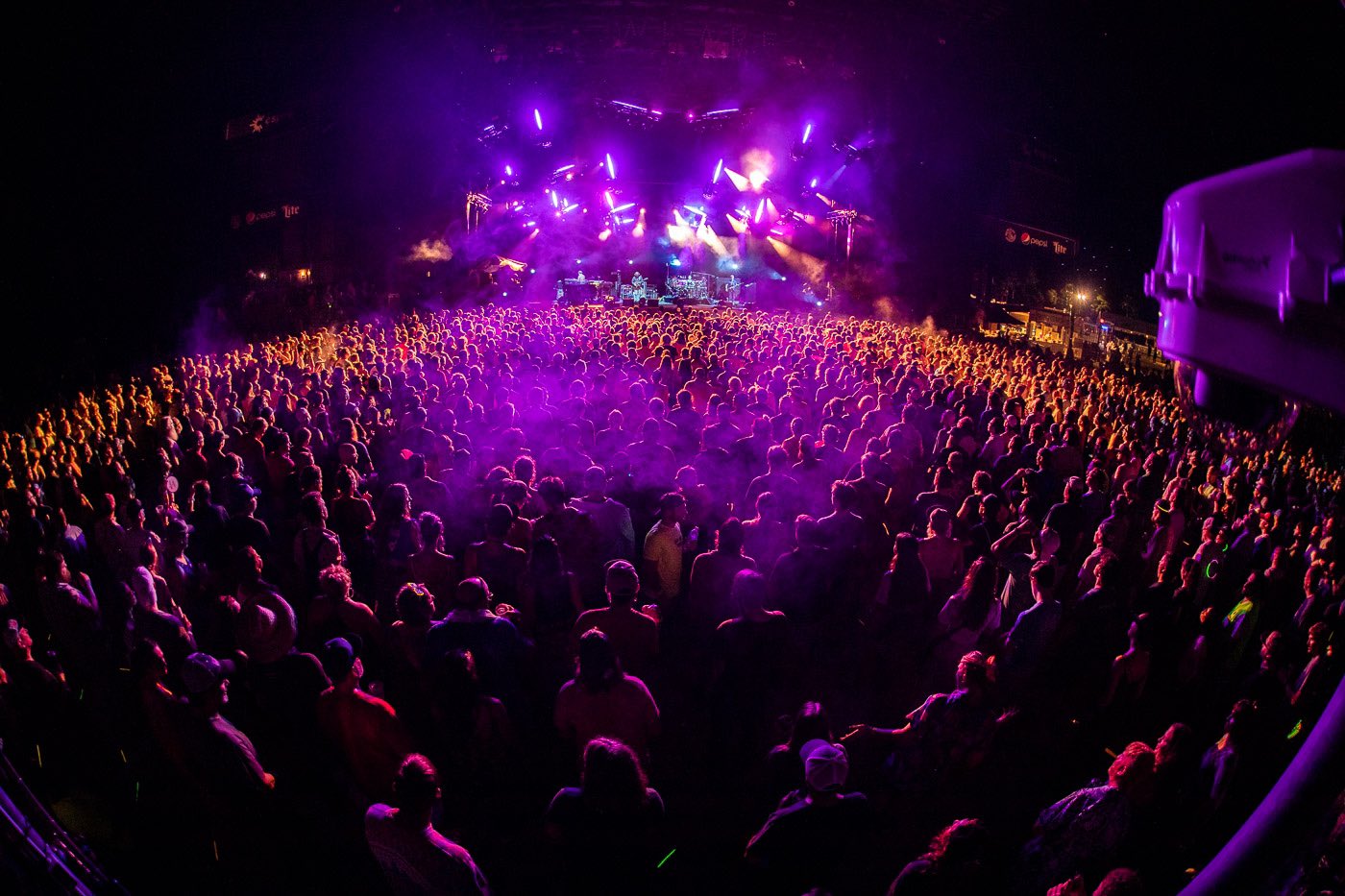 But the sadness that the weekend, and our time together, was almost over appeared on Sunday morning. At least we could conclude it with a show on the day (Sunday) one should never miss the music. The weather synched with our plans to go out with a bang, too. Daylong gray skies and intermittent drizzle-turned-downpour stopped a few hours before showtime, and the sun made a brief return. The camaraderie that enveloped me all weekend was in effect not only with the weather patterns but within our bleacher section 306 as well. A little boy tossed a yellow smiley face balloon around before showtime. Whenever it strayed from his palms, we, the section surrounding him, rallied to get the balloon back to him. There were also several attempts throughout the evening to get a "section 306" chant started.
Such fellowship continued when the band took the stage at 8:05 and reverse "ZERO'D" us with a rare "Character Zero" opener. The only other time the band started a show with this collective fist-in-the-air rocker was almost twelve years ago, on July 3, 2010 in Alpharetta. This "Zero" was also one of the lengthiest versions ever played, clocking in at over thirteen minutes. Trey's murky swamp tone paired perfectly with our almost-bayou location and its sing-along ending compulsively brought thousands of hands into the air in an example of the solidarity Phish inspires. If you ever listened to my appearance on the "We Are Everywhere" podcast, you will know that "Zero" is far from my favorite Phish song, but this version stands a chance of changing my mind.
"Mike's Song" came next. Though expectedly missing the second jam, the song did venture from the typical dark and dirty minor key, complete with Page switching between synths and organ, to a happy major key peak from Trey, before returning to that minor key we are so familiar with in "Mike's." As it was ending, I wondered if we would be treated to a traditional "Mike's Groove" and held my breath in anticipation of Page's beautiful intro to "I am Hydrogen", but no, "Bouncing Around the Room" followed those final resounding power notes, ending "Mike's."
"Bouncing" didn't clear out the bleachers for a bathroom or drink break as I thought it would. This short, perfunctory "Bouncing" was followed not by "Weekapuag" but by "Kill Devils Falls" instead. This version of "KDF" extends to almost twelve minutes and contains a sweet micro jam where I noticed Page seemed to be turned up. His prowess at the keys sounded through loud and clear while Trey explored several different tones throughout the jam. I think it's deserving of a relisten or two.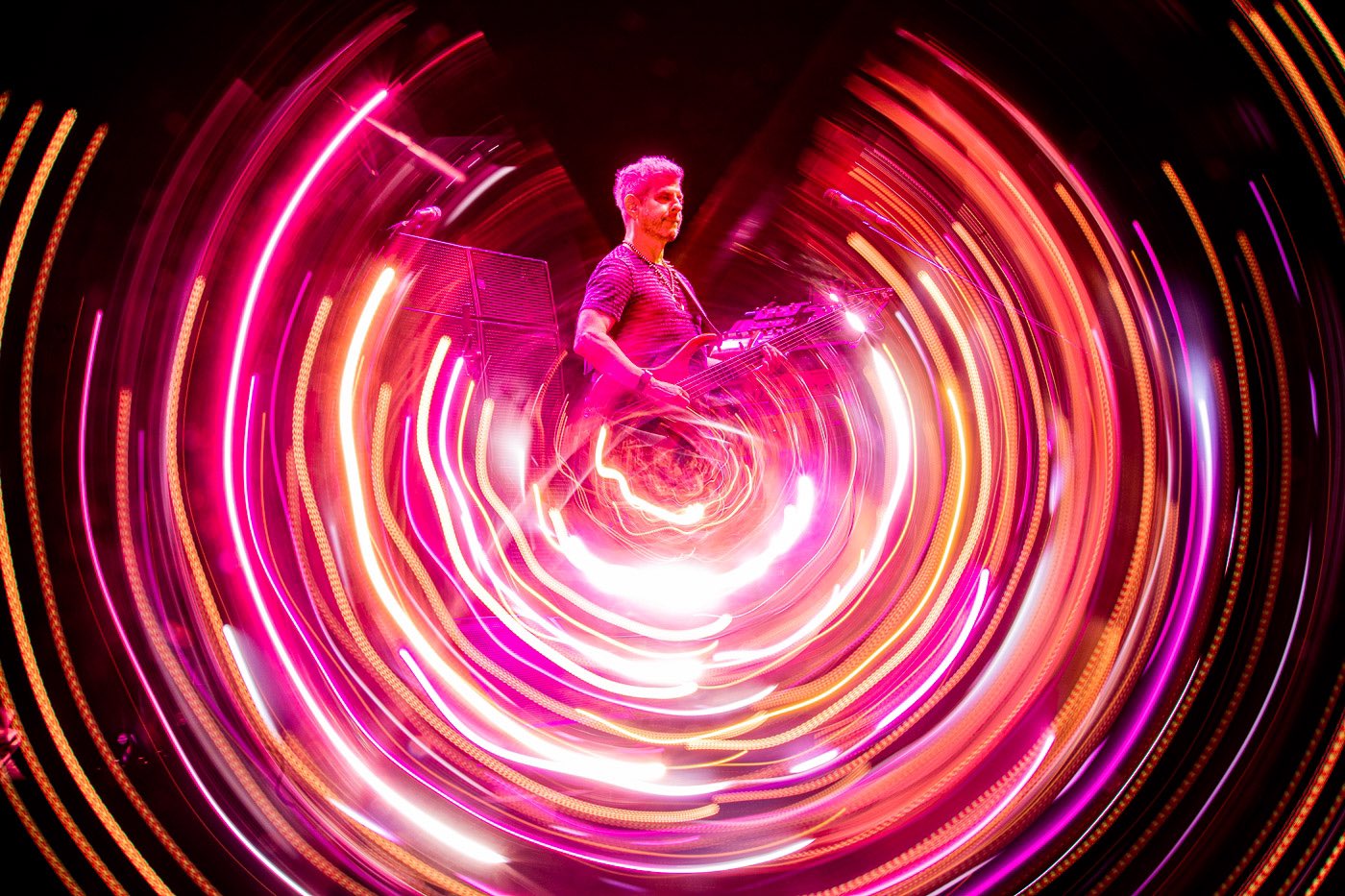 The mass exodus I expected during "Bouncing" came next with "Winterqueen" and I took the opportunity to use the bathroom as well. It was a good thing I entered this latter portion of the set with an empty bladder, for a dance party commenced with the final four songs:" Funky Bitch," "NICU," "Carini," and finally, the "Weekapaug" we'd all been waiting for since those opening notes of "Mike's."
Though neither strayed from their standard versions, "Funky Bitch" got the crowd's feet and hands moving and grooving in a collective boogie, while the line "a day at the shore" in "NICU" drew an appreciative cheer from the crowd. I may be a Gemini and an air sign, but I love the water. I wish all Phish runs could enjoy such leisurely daytime water fun as this weekend in Orange Beach brought. There's nothing like recovering from the night below while immersed in a refreshing pool of water.
"Carini," at under nine minutes, could have been longer, but provided a satisfactory mini jam that toggled between lightness and darkness. It's as if Fishman, Mike, Page, and Trey battled against the dark forces during it, with the rhythm section forming a shield wall against the ax-wielding (or in this case piano and guitar-wielding) onslaught of Page and Trey, though Kuroda's lights made the clash less Middle Ages and more futuristic Flash Gordan. Try not to close your eyes during any of his artistry. You do not want to miss a thing. "Weekapaug" sent our hearts pumping even more to close the set.
My cousin celebrated her 100th show tonight and pleaded with the universe for a "Punch You in the Eye" show opener. "The Landlady," played more flawlessly than any other recent version, that kicked off set two more than sufficed. It was followed by a twenty-two-minute spaced-out version of "Tweezer" that bookended our spin to space during Friday's "Soul Planet." The song started with those creepy sci-fi droned quotes from Leave it to Beaver that haunted us (in the best way possible) throughout the weekend. The sample then occupied the void after our trip to the freezer with Uncle Ebenezer.
The jam started out with Trey playing smooth as butter in a titillating groove until Page became a brief dominant force against Mike's steady and bouncing bass. Trey reemerged with a synth exploration that began our journey through the lower atmospheres of the universe. Fishman's charging drums led the band into the outer depths of space where the band unified, becoming a metaphorical rocket ship that transported the audience to the far realms. In the last ten minutes, the communal musical force of the four men became so that no one dominated the other but united in the command of their instruments for the most psychedelic feast for the ears (and eyes, thank you CK5), building until around the 18:40 mark, when Mike's drill sends ethereal whirls into the cosmos. Space-expanding coalescing notes reverberated throughout the final four minutes of the song and faded to "Plasma."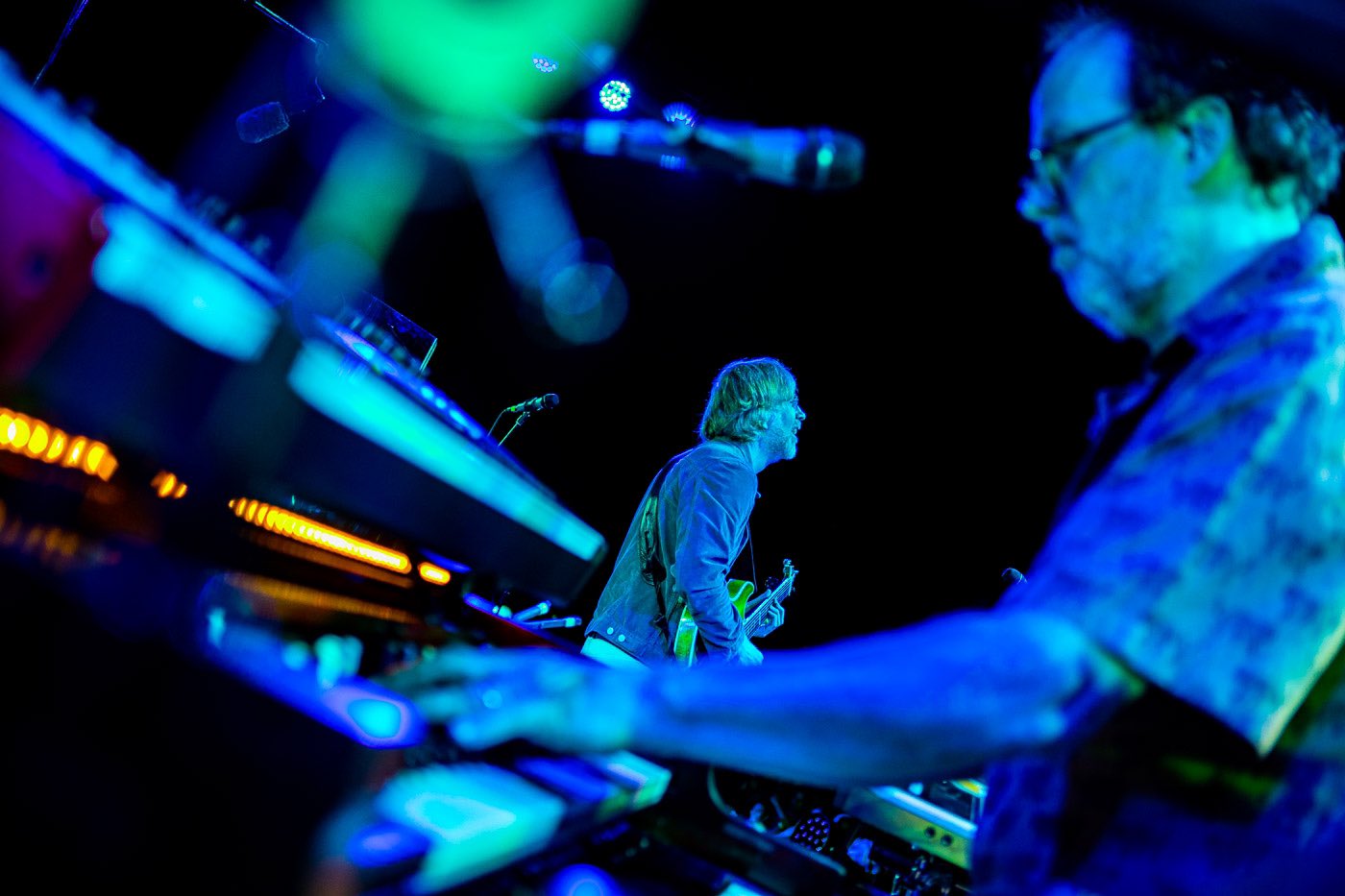 The abrupt, albeit muted, transition into "Plasma" received a mixed review within my crew. If you are acquainted with me at all you know I have to pee all the time. I saw the latter part of the song as the perfect time to visit the bathroom. When I returned to the opening notes of "Wolfman's Brother" my body was ready to go all out with the dirty funkiness of this song. The jam started off reminiscent of "Wombat" but soon Page's work at the clavinet combined with Trey's synth tone made my mind forget about that cuddly and muscular creature and focus more on the beast of this "Wolfman's," which included a little more Beaver. Don't sleep on Fish's funky off-beat drumming. My ears were tuned into him for much of this song. I couldn't stop moving if I tried. More of this, please!
Alas, the song faded to "Miss You." Though the homage Trey wrote for his sister is beautiful, it was not the best way to start the fourth quarter of the show. Our bodies craved more from our dance workout, and it wasn't the most opportune time for the reflection on our dearly departed that the lyrics inspire (at least not for me).
"Maze" came next to get the momentum back and though it was full of flubs, it succeeded in getting my blood flowing again. The set closed with everyone's favorite, "Harry Hood," and brought about more fists in the air and a collective sing-along, unifying us similarly to "Character Zero" at the beginning of the show.
The band returned to encore with a heartfelt version of "A Life Beyond a Dream." I just saw Trey perform this with Trey Anastatio Band last Sunday. He sang with just as much gusto and passion tonight as he did then. Though I would have preferred another selection to kick off this two-song encore, I must admit to my deep appreciation for "A Life Beyond a Dream" in the comfort I found by listening to it repeatedly during the pandemic. Everyone may not agree with me about this song, but can we all agree that "Tweezer Reprise" is a perfect finish. The short yet raucous "Tweeprise" nightcapped our evening with a final flurry of hands, feet, and cheers.
The heat and humidity of the Alabama shore permeated strongest on Sunday, but the rain came down to rescue our damp and sweaty bodies immediately following the show. After dancing for almost three hours, the cool drops felt as refreshing as the ocean. On this night of beautiful comradery and togetherness, the rain deserved a participation ribbon in waiting until the show was over to return.
Cheers to a strong tour opening run. Though it had its ups and downs, the highs caused excited anticipation for what Summer Tour 2022 will bring. And though I don't see myself traveling to Alabama unless Phish chooses to play at The Wharf again, it made a wonderful long weekend destination filled with some of my favorite things: the ocean (it is love after all), family and friends, and Phish.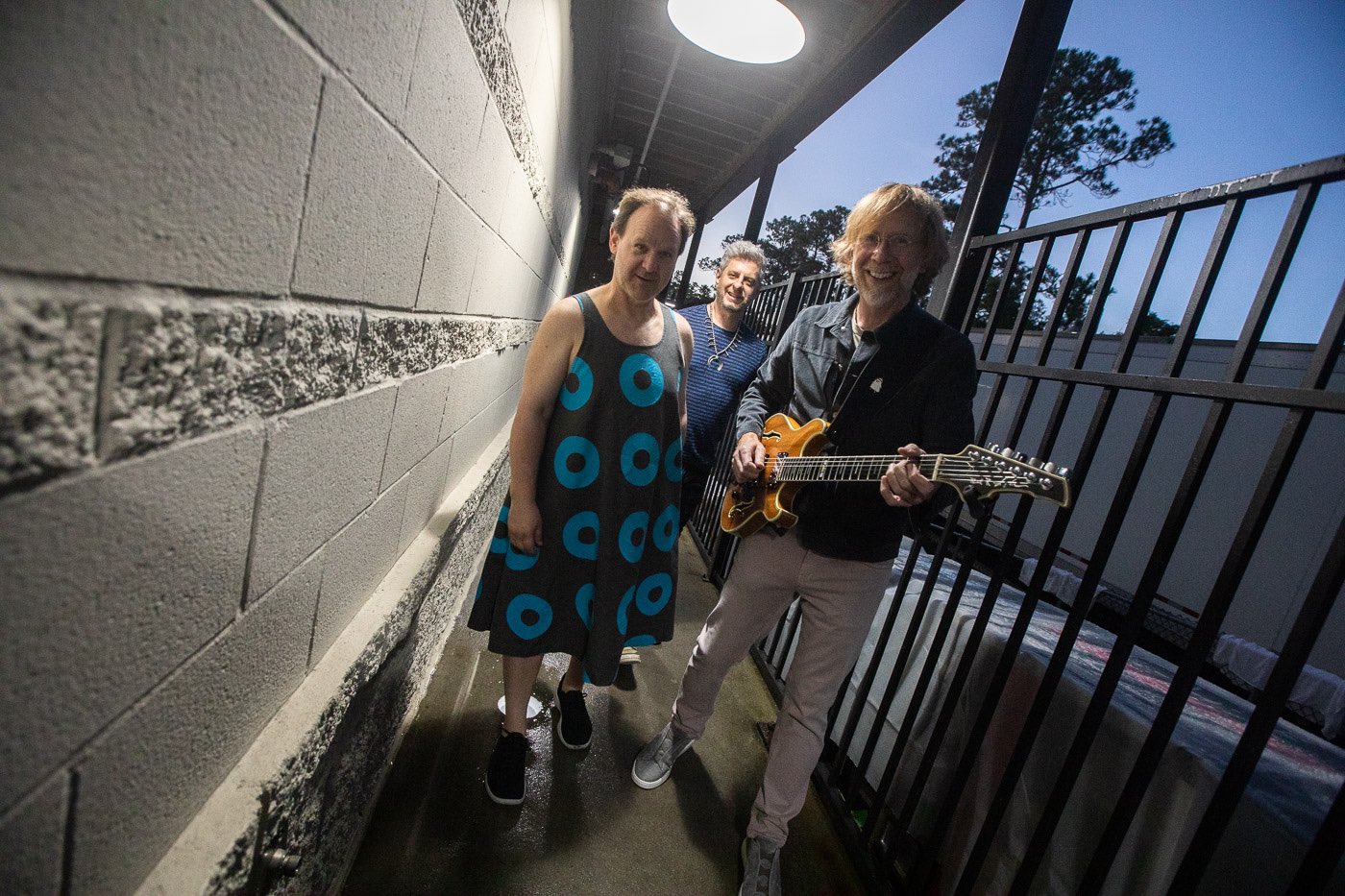 If you liked this blog post, one way you could "like" it is to make a donation to The Mockingbird Foundation, the sponsor of Phish.net. Support music education for children, and you just might change the world.