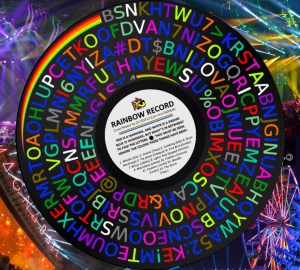 Our next puzzle will have you spinning. All you need, is on the label - though click through, if you're playing, for a higher-quality image.
Concert images (clockwise from bottom left) by Andrew Blackstein (8/23/15 and 10/31/14) and Jake Silco (7/12/14 and 8/23/15) used by permission.
If you liked this blog post, one way you could "like" it is to make a donation to The Mockingbird Foundation, the sponsor of Phish.net. Support music education for children, and you just might change the world.