The answers go in circles, starting from the "R".
But there's no indication how long any of them are.
Answer each in order, to know where the next one starts.
We've given you a diagonal, so at least you have some parts.
Either a letter or a number could fill each beanied fish.
And if you're careful with your capitals, you'll get to the next dish.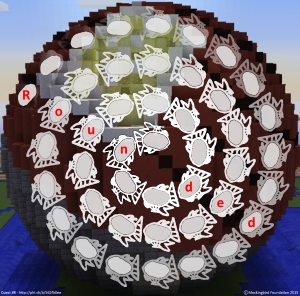 1. She cooked in a tub
2. Llamas minus Lizards
3. Gladiators first entered Llama here
4. I'm falling in a well that's this
5. Careful, Eugene; it's not small, like Bob's
6. SPACs minus Red Rocks
7. He never listens to what I say
8. New Year's Eves minus Halloweens
9. Atlanta venue that no longer Remains
10. Wriggled in the earth and this
11. Debuted (began its descent?) at the Flynn
12. Phil's guitarist Robben
13. Lushingtons minus Shaftys
14. Farcial punk "song", minus arch
If you liked this blog post, one way you could "like" it is to make a donation to The Mockingbird Foundation, the sponsor of Phish.net. Support music education for children, and you just might change the world.