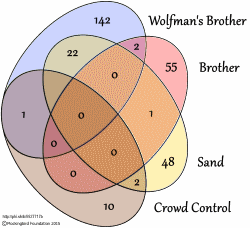 Brothers Day (May 24th) is as good a day as any to satisfy a common request in comments about previously posted charts. So, here finally is a Venn diagram with Phish songs that mention brothers. (Another, for "dog shows", will come later.)
Phish has sung the word "brother" live 1,603 times, in 311 song performances at 283 shows. But no shows have included all four songs that use the word ("Brother", "Wolfman's Brother", "Sand", and "Crowd Control"), or even any three of them; and only 28 shows have included any two of the four. There just aren't a lot of Brother Shows (though there are a few more Bro Shows, if we expand to include the slang "Brutha" in Julius).
Including other family roles doesn't help much. For example, no shows have included both of the songs that mention sisters ("Crowd Control" and "Rock a William"). And only one show has included "Rock A William" and any of the four "brother" songs, making 2/13/97 agruably the only Sibling Show (not counting the 13 shows with "Crowd Control", which uses both "sister" and "brother", nor the 73 with "Sand", which uses "siblings".)
BTW, Siblings Day was April 10th and Brother and Sister Day was the last Saturday in March.
If you liked this blog post, one way you could "like" it is to make a donation to The Mockingbird Foundation, the sponsor of Phish.net. Support music education for children, and you just might change the world.