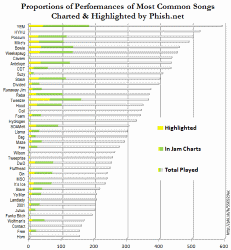 The next few entries in our charts series summarize some of the information and scrutiny available through Phish.net. First up, a quantitative summary of the site's extensive Jamming Charts, which identify 3,343 recommended performances of 193 songs (an average of 17.3 each) as well as 919 highly recommend versions (an average of 4.8 each).
For the 41 of those songs which were performed 150 or more times, the chart to the right illustrates the total performances (to end of grey), proportion recommended (end of green), and proportion highly-recommended (yellow).
Those 41 songs account for 1,549 recommended versions and 541 highly recommended versions, or about half of all those in the Jamming Charts. But those charts recommend a wide range - from only 2 of the 438 Caverns, to 43% of the 366 Tweezers (of which 63, or 17%, are highly recommended.)
We encourage you to explore the charts, more guidance in your exploration of Phish.
Methodology
For purposes of readability, I limited the chart to songs performed 150 or more times. That leaves out classic jam vehicles such as Simple (150 versions, 46 charted and 13 highlighted), Ghost (134, 48 and 15), and Birds (97, 24 and 7).
I did not weed out songs such as HYHU (524, 1 and 1) or Cavern (438, 2 and 0) - that is, I did not define "jamming vehicles" and limit the chart to those - since it's interesting to see both that not all songs would qualify and that our recommendations vary even among those that do.
Where one song appear twice in a setlist and was charted or highlighted both of those times, I included both. Though some might consider that an exaggeration, the difference is a fraction of a percent, imperceptible in this chart's long thin lines without values.
If you liked this blog post, one way you could "like" it is to make a donation to The Mockingbird Foundation, the sponsor of Phish.net. Support music education for children, and you just might change the world.