Already, rumors are spinning about various stops on an anticipated summer 2015 tour. Wherever it's stopped, and whenever it's announced (likely on a Tuesday, late February?), it's almost certain to happen: Phish 3.0 is all about the summer tour.
For most of this chart, each row shows a calendar year (Jan 1 to Dec 31), with a vertical blue sliver for each Phish show. Three heatmaps summarize those 32 years: The darker blue the sliver, the more shows occurred on that day of the year. In all rows (the 32 years and the heatmaps), dates without shows stay white.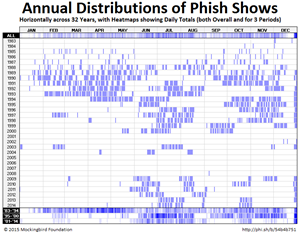 The top multi-colored row is based on a sum across all 32 years, and shows that Phish shows have historically been distributed roughly evenly across the calendar year, with only three exceptions: There have never been shows most January days, several days around the start of the school year, and the third week of December. But glance down the chart (where each row is a different year) and see both noticeable gaps and shifts in where they happened.
Those shifts are summarized clearly in three more heatmap rows at the bottom, one each for three periods in Phish history. Shows from '83-'94 were year-round but with summer downticks reflecting, in part, the targeting of college markets. From '95-'00, summer was central, fall shifted from Nov/Dec to Sep/Oct, and the first three months of the year were thin. Since the hiatus ('03-'14), the first five months (as well as September and November) have been bare - and 3.0 has been decidely summer and October.
So, unless we enter a new pattern, and perhaps even a new era... get ready for the heat, and start brainstorming a costume.
If you liked this blog post, one way you could "like" it is to make a donation to The Mockingbird Foundation, the sponsor of Phish.net. Support music education for children, and you just might change the world.