Until last fall, every announced tour brought a common lament: "West Coast screwed again." But the data has a different refrain: While the West Coast gets plenty of love, it's the band's home turf that gets routinely shafted - and moreso across the band's history.
The mantra "follow the line going south" did not emerge in lyrics or tour patterns until 1987, following four years solely in New England. By 2014, Phish had abandoned Patriots territory - but they still played Seahawks city.
And last fall was hardly an anomaly. There have been more shows in Pacific states than New England ones in 12 of 23 periods - including 1997 and 2004, in particular. New England has even fallen behind non-US shows in six periods!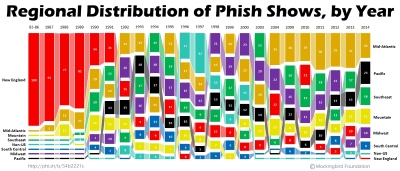 Other patterns are apparent, as well: The Midwest had its hey day (esp. 98-04), but has slipped away since the "breakup". Non-US shows were tops in 1996 and 1997, but have barely been seen since the hiatus. And if there's a region that's been roundly ignored throughout the band's history, it's not Western states but South Central.
Methods:
This stacked-column flowchart is expanded from a 4-year chart (by the fabulous FrankensTeam) to cover 23 periods and with narrower columns, faded connectors, and percents (rather than proportions in decimal form). It might also be called a Linked Stacked-Column Graph, Platform Shift Graph, or Shifting Stripe Graph.
Regions are based on Census Bureau divisions, though these may not be ideal. For example, the Atlantic region is a long swath heading south, although DC was played four years before Florida. (Indeed, subsquent comments have suggested using FEMA regions, though there are of course problems w/ any alternative.)
Note also that I've left Pacific separate from Mountain, a distinction that wouldn't be made by some (such as those who divide the country by the Mississippi River). If those two regions are combined, Western shows dominate even more often.

And, yes, you can hang a print of it over your bed.
If you liked this blog post, one way you could "like" it is to make a donation to The Mockingbird Foundation, the sponsor of Phish.net. Support music education for children, and you just might change the world.