Though a summer event will celebrate "the music of the Grateful Dead" (emphasis added), the last Grateful Dead show was 7/9/95, 30 years and 65 days after their first. Phish reached that age February 5th of last year, will be a year older than that in less than three weeks, and arguably* became the longest-performing jamband when they took the stage 4/26/14.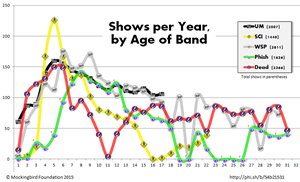 Though they are said to have expanded rapidly (even exponentially), Phish's growth was far more gradual than that of other bands, including the Grateful Dead. It wasn't until Phish was perhaps** 7 years old that they played 100 shows in the same year, something that the Grateful Dead did in their 2nd year - and that Widespread Panic, String Cheese Incident, and Umphrey's McGee, for example***, all did in their 4th. (The fastest growing of these was SCI, who played 226 shows in 1997, their sixth year, after two spare ones - though they've played relatively few shows since their 15th.)
And while Phish is thought to have stopped suddenly, their decline was also more gradual: The Grateful Dead's performance frequency peaked (at 150 shows) in their 5th year then dropped (to 4) in their 10th, whereas Phish didn't peak until their 8th year (at only 143 shows), followed by a relatively slow decline until their 18th. Yes, the Grateful Dead (lost and) replaced some personnel, an approach sort of built into the band's music, mystique, and even name. But they also played every year for 31 years, bounced back with abandon after their pause (in 1975), and played more shows per year than Phish in each of the bands' respective 16th through 31st years.
Phish, meanwhile, actually came to a full stop, twice, for almost two and then more than four years. Only WSP has had a (single) sharper drop - but with the exception of that one, WSP has been far more prolific: Only 17 months younger than Phish, they grew almost as quickly as SCI (and in line with both the Grateful Dead and Umphrey's), have typically played more shows at any age than any of these bands, and have played the greatest total number of shows, almost twice the number SCI has played (not Everyday, but the closest to it, at about 24% of the days since they started.)
For their age, Umphrey's McGee wins for consistency and stamina. The band has played more shows at any age than Phish or the Grateful Dead, played more shows in its first 15 years than Phish has in 31, and show no signs of slowing. By 2018, at only 21 years old, they'll have had more stage experience than the Grateful Dead.....though not Widespread, seemingly destined to outlast them all.*
Methods Notes:
Annual counts were drawn from DeadNet, Phish.net, Cheesebase, AllThings, and Everyday Companion.
* The Allmans started earlier, and only recently stopped, so maybe they're the oldest - if they're a jamband? And iterations of "the Dead" continue. Don't over think it; just look at the pretty lines and smile. :)
** We are aware of 94 shows in Phish's sixth year, but recognize that there may be others, long forgotten.
*** Don't be offended that I didn't include moe., Wilco, U2, Celine Dion, or anyone else. Some didn't have data; others didn't add value.
If you liked this blog post, one way you could "like" it is to make a donation to The Mockingbird Foundation, the sponsor of Phish.net. Support music education for children, and you just might change the world.