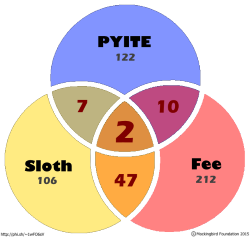 A "Triple Nipple" refers to any show in which Phish plays all three* of their original songs that refer to nipples**: "Fee", "Punch You in the Eye", and "The Sloth". They've been an item of amusement for decades. But even the FAQ's Triple Nipple page has until recently had the numbers wrong.
Corrected numbers reveal something that's long been elusive, partly because we didn't even know to look for it: There have only been two such shows, such that the next one will be the one, the only, Third Triple Nipple - the cubed cube, the apex of nubbin allusion, the supernumerary of supernumerary shows.
Now, knowing that there have only been two, seeing that "2" pulsating from the middle of a Venn Diagram***, may make you start to wonder, when will the Triple Nipple Trilogy be completed?
But it's not the kind of thing for which you can campaign explicitly without seeming either immature ("Tres Trip Nip, Trey?") or overly sophisticated ("I want my ternate supernumerary!") So, we're here for ya', with a solution: Special Mockingbird-supporting shirts and tanks that promote the cause without using the "n" word... or even that "s" one.
By the way, triple nipples are less common at Phish shows than on humans: Those two shows are pnlyl 0.13% (an eighth of a percent) of the 1,510 shows Phish has performed to date, much rarer than the 2% of women and 5% of men blessed (or cursed?) with a third nipple.
Methods notes: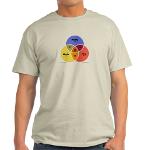 * Some would include others songs: A nipple is mentioned in the version of "Sanity" that appears on Junta, and including "Sanity" in Triple Nipple counts increases the total to 10 - but none of the 10 versions of "Sanity" that would be counted, mentioned a nipple. The count would double again to 20 if we include "The Oh Ke Pa Ceremony," the title of which comes from a tribal ceremony painful to nipples - but the song is not clearly a nipple reference, either for Phish or as understood by most fans.
** Note that all three of these lyrical references are about nipple slicing. That's not really a methodological note, but the nubbin trouble seems weird.
*** Unlike the earlier Venn-like graph (with nested sets but aggregated numbers), numbers here are incremental. There have been 166 shows with Sloth, of which 9 also had "Fee", of which 2 also had "PYITE" - but there were only 106 shows with just "Sloth" (no PYITE), 7 with Sloth and PYITE (but no Fee), and, again, 2 with all three.
If you liked this blog post, one way you could "like" it is to make a donation to The Mockingbird Foundation, the sponsor of Phish.net. Support music education for children, and you just might change the world.