Referring to the members of Phish as "the boys" was fun, then "so last week", then ironic. Now, it's just sad. But there's always one way to revisit any issue: statistically.
A little over eight months ago, I posted a Venn diagram purporting to show the numbers of common shows with each combination of Phish songs that mention boys: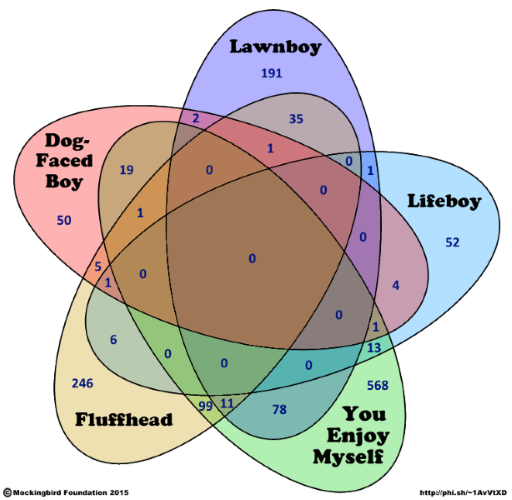 Lifeboy, Lawn Boy, Dog-Faced Boy, and You Enjoy Myself. The numbers were solid, but some of you questioned the song selection. (No one objected that the first two mention boys only in their titles, not lyrics, but various users suggested adding other songs.)
So, here's a revision, which includes Fluffhead (thanks @larvalcraze) - though not Harpua (which doesn't always mention Jimmy as a boy; sorry, @The_Crested_Hogchoker) or Little Drummer Boy (a cover; sorry, @markah).
This post also does more than update an old farce: This five-petal Venn diagram begins a series of more than two dozen graphs, each drawing on different aspects of Phish.net data, and each utilizing a different kind of graph. Each will post Saturday morning, to give you something to chew on (and perhaps share) over the weekend. Because whose weekend isn't more complete with fresh visualizations of data about the b-... well, you know.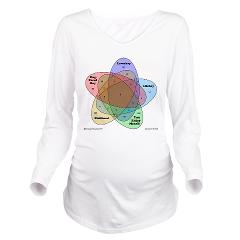 And, by popular demand, yes, you can get it on a shirt - and lots of other stuff, too. Each chart design will be available on several dozen products, with royalties going to the Mockingbird Foundation. And while, sure, this "Five Boys Venn" works on a coffee mug (small or large), it works even better on a boy's toddler t-shirt or mom-to-be's maternity shirt. That's right: Be the first in your 'hood to announce your blue-hued news with a Phish-related visual riddle!
A note on methods: These aren't true Venn diagrams, since each number is total instances rather than unique instances. For example, there have been 191 total Lawn Boys, including the 2 shows that also had Dog-Faced Boy and the 35 that also had Fluffhead; and all three of those numbers include the 1 show that had all three songs.
If you liked this blog post, one way you could "like" it is to make a donation to The Mockingbird Foundation, the sponsor of Phish.net. Support music education for children, and you just might change the world.