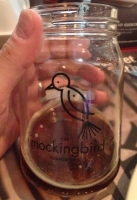 The Rock Bottom Restaurant & Brewery in Chicago held a series of fundraisers, during their Summer Honey Tapping Party, in conjunction with the recent Phish shows there. Rock Bottom donated funds to the Mockingbird Foundation for every pint of their "Sample" beer sold over the weekend, and served it in special mason jars emblazoned with the Foundation logo. Co-manager T.J. Catalini also organized a raffle, live music, and more! Foundation board member Charlie Dirksen attended on Friday, as did Foundation volunteers Kevin Hoy on Friday and Scott Marks on Saturday – and, of course, many other Phish fans, including perhaps you.
The Mockingbird Foundation has now received a check for $1,101.50 raised from CraftWorks Foundation, which handles the corporate giving for CraftWorks Restaurants & Breweries Inc.'s 250 restaurants under multiple brands. We appreciate everyone for their support of music education. In particular, we want to thank TJ, as well as Angie Leach and Michelle Jones of CraftWorks. We hope that we can do it again the next time Phish is in town - and look forward to seeing even more of you there!
If you liked this blog post, one way you could "like" it is to make a donation to The Mockingbird Foundation, the sponsor of Phish.net. Support music education for children, and you just might change the world.