To those curious or surprised by no Halloween show, unsure of a New Year's run, and passing along rumors (and even interviews) about fewer shows and/or longer breaks, some historical perspective...
While only one Phish pause was labelled a "hiatus" by the band - The Hiatus, from 2000-2002 - that wasn't their only pause from playing. (Needless to say, but, it wasn't their longest either, at 815 days compared to the 1664 of the "permanent" breakup from 2004 to 2009.) There was also the "needed break" for the first four and half months of 1995, the European vacation in 1985 (perhaps 114 days, ending 9/26), and, of course, the first extended break, the Heart and Hand Hiatus of 1984, covering Trey's expulsion from UVM and transition to Goddard.
That would make any immiment intermission the sixth such slack - except that there are at least ten more! In fact, pauses for an entire season or more have been nearly annual: Breaks of more than 90 days include those ending on 12/2/93 (after 96 days), 4/4/94 (94), 5/14/95 (134), 4/26/96 (117), 4/2/98 (92), 6/14/99 (175), 5/5/00 (136), 7/7/03 (128), 11/28/03 (117), 4/15/04 (106), and 5/26/11 (145), not to mention what may simply have been the Summer of Untracked Shows (perhaps 96 days ending 9/3/86).
The chart below shows the longest three pauses each year (excluding counts for the hiatus, breakup, and years off). Every year has had a gap of at least 40, and at least seven years have had a gap of nearly six months. So, no Fall 2012 tour isn't unusual - and taking long stretches off next year would be statistically normal.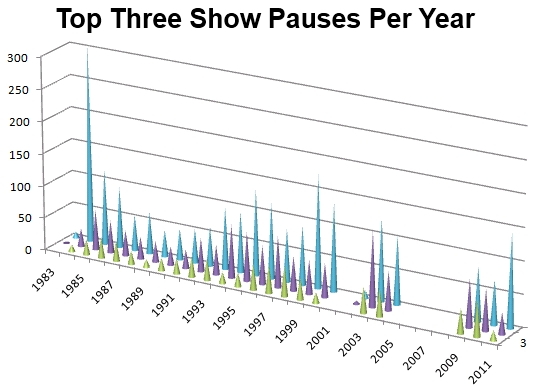 If you liked this blog post, one way you could "like" it is to make a donation to The Mockingbird Foundation, the sponsor of Phish.net. Support music education for children, and you just might change the world.