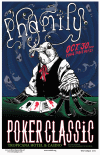 The second Phamily Poker Classic is ON, right now, at Harvey's Resort and Casino. To celebrate, we're auctioning off nine (9) numbered and signed posters from the original event, last Halloween in Atlantic City.
These are beautiful 11x17 digital prints on 100lb felted cover, all hand drawn and hand done type, signed by fabulous artist Erin Cadigan, featuring a mockingbird dealing four Aces representing Phish's instruments, while the Phamily watches from the background, and a whirl pool of fish bones and eyeballs swirls about.
Prints numbered 10, 12, 13, 14, 15, 17, 18, and 19 being auctioned one at a time, starting with the lowest number (10). Each auction runs 3 days, followed immediately by the subsequent auction for the next number.
ALL proceeds go directly to the Mockingbird Foundation, an all-volunteer, Phan-run non-profit that funds music education for children.
Bidding for print #10 begins... now!
If you liked this blog post, one way you could "like" it is to make a donation to The Mockingbird Foundation, the sponsor of Phish.net. Support music education for children, and you just might change the world.